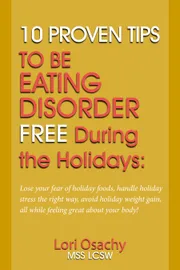 You don't have to suffer over the holidays if you have food and body image issues, and in this book I've brought together my best advice, tips and tricks to help you.
Have you noticed that each year holiday stress starts right around Halloween? You're going along without a care in the world, and don't remember it's coming, but then… all of that Halloween candy shows up. The candy starts the entire holiday food parade, which marches on right through the New Year.
That's an awfully long time to cope with food stress - October through January. That's one quarter of every year of your life! There is a lot of rich holiday food around during the holidays that is normally not available. Just the presence of these types of foods can trigger eating disorder behaviors and low self-esteem around body image.
In this book I'm going to give you my very best tips on how to not just survive but thrive during the holidays, despite these obstacles. Just enter your name and email in the box below, and you'll immediately receive your copy - and remember, I don't share your information with anyone!